The Cyclone AX3
This is the Cyclone AX3. It's a very safe, gentle and forgiving little airplane ideally suited to those who just want a leisurely float around the sky at around 35 to 50 miles an hour.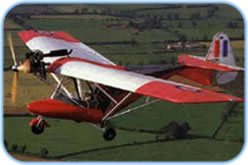 The AX3, like the T600 goes back a long long way to the very early 1980s. It was originally designed by a NASA scientist - Don Chiota – and called the Weed Hopper. In its original form it was powered by a 250cc single cylinder engine and only had rudder and elevator controls.
The design was eventually bought by a French company who re-designed it, adding aileron control on the wings plus more powerful engines as engine technology progressed and successfully manufactured several thousand of them in kit form. Many of these were, and still are presumably, used along the Mediterranean shores for banner towing and when fitted with floats, used for joy-rides as well as being used by thousands of pilots throughout Europe for normal flying pursuits.
The first microlight pilot to fly at Popham airfield was Gordon Clephane, he purchased and built one of these kits ..... then proceeded to teach himself to fly it over several months by lots of ground handling, progressing to fast taxiing down the runway and after many short little hops which gradually progressed into longer and higher ones, he did his first circuit and has now amassed many hours of the incredible fun that only this form of flight can bring.
The aircraft was brought into this country in 1993 by Bill Sherlock of Cyclone Airsports and re-designed yet again, in order to comply with the incredibly strict CAA design criteria for obtaining the necessary UK airworthiness certificate. Eventually taken over by Pegasus Aircraft of Marborough many of these were manufactured right through until the end of 2002 but Pegasus decided to stop there because the design was getting a little 'old-hat' in the light of current trends and besides, being the leading European manufacturers of hang-gliders and Flexwing aircraft, they were busy enough anyway. Of course they will still be producing spares for for the AX3 for many years to come.
Microlight Flying School of the UK has been running a fleet of AX3s very successfully since 1993 and accrued many thousands of trouble-free hours on them. People often ask the question "What is the life of these aircraft" Well, it's a bit like the case of the old lady's broom. It's the same broom but it's had lots of new heads and lots of new handles! In the case of their fleet, they've all been through several engines (500cc twin-cylinder, CD-ignition, two-stroke engines delivering 54hp at full power) which they literally throw away at 1000 hours and replace. They've all had a second set of clothes (wing, fuselage and tail covers) but about 80% of the original airframes on all of the fleet are fully serviceable and will be for the foreseeable future or until an inspector conducting the annual 'MOT' inspection decides that a component needs renewing. Then it's on the phone to Pegasus for a new part, unbolt the old one, bolt up the new one and away into the wide blue yonder again!
Thousands of trial lessons have been flown on their fleet of AX3s. They've taught hundreds of people to fly them right through to their Private Pilot's Licenses and quite a few of these have since gone on to become either instructors or airline pilots. Who knows, when you fly off on your holiday, the captain could well be one of our ex students!
The RAF saw this aircraft as an excellent alternative to teach their cadets in instead of the ageing and expensive Chipmunk. The photograph here showing the RAF markings on the wings and tail was an AX3 they were evaluating for the purpose. The prototype was tested by none less than the renowned test pilots at the Empire Test Pilots School at RAF Boscombe Down in Hampshire and received an absolutely glowing report regarding its safety and performance.
Like the T600, a truly remarkable little success story.